Friday, March 24, 2006
Im a Loser, I'm Sorry...
...that I haven't poasted for ages!!! I also have no pics of me dreads either...maybe soon... but a quick report: they're longer now, which is cool. I'm still having issues with the roots, but I think that they are slowly matting up without me realising it! I am currently in the process of finding a job and a flat, and trying to sort my life out, so I will use that as my excuse this time for not posting...but it is true anyway....

Until next time,
TTFN
x

Tuesday, December 06, 2005
Loopyloo
Hey there, I know i've been poo in updating my site...lots going on, sorry, no real excuse...no hang on, it is a real excuse! But accept the appology all the same. It is still poo! Anyway, away from poo, and onto my dreads (I want to make it explicit that the two subjects are NOT related in ANY way!!!).
I am nearing my 6 month anniversary! whoop whoop! Theyre going ok. A bit fluffy occasionally on top, but i'm going to keep twisting them to get that in, and the wax helps, but i dont use the wax all that often now. The roots are starting to dread on their own...slowly though: apart from the ones at the base of my head, theyre dreading up great. I think that's all the friction of my pillow, so i'm going to see if the winter months, and hat wearing helps to dread the top of my hair up too! Will keep you informed.
I've also had to do a bit of work on the dread itself; it's where i've been tying my hair back in a ponytail, and about half way down the dread thay are loose in parts. To solve this I have been pushing the lower part of the dread through this hole, and then again in the opposite direction. This gets it knotted a bit tighter, and after a while you can't tell that its in.
Thats all for now. Will try and get some piccies on here soon!
Mol x

Sunday, September 25, 2005
3 MONTH REPORT!
Ok, so I inadvertantly lied about my 2 Month piccies, but hey, look at my 3 Month babies now!!!
I gave them a good scrub with my shampoo bar (see the knottyboy website for the one that I use, ...don't if you're not bothered though...)
Because of that good scrub, my scalp no longer has dandruff and wax stuck on it, but hey dod come out of the wash a little bit loose. When I first got my dreads, I used to backcomb the roots tighter, but then I realised that if you do this, you must re-backcomb the rest of the dread, or it goes a bit loopy... so I'm just leaving them this time. They're not too loose though, and the wax should sort out any stragglers, so i'm not too worried. Also my little friends, it has been told that the roots will not grow un-dreaded for long: after a certain length they knot up on their own. I'm sure that it helps to twist them and play with them. Washing them helps them knott up too, as it strips them of oils that grease the hair!!!
ps, check out my previous blogs, as there are more piccies of relevance there!
ALSO!!! DON'T FORGET TO LEAVE A COMMENT!!! YAY!!!!
Tuesday, September 06, 2005
Dread Tips
Hello. Just been thinking about what I could help you guys with regarding dreads, as I haven't blogged for a while. Then it suddenly struck me: DREAD TIPS! Oh man, these can be a nightmare, and I've only had my dreads for 2 months (2 Month Pics to follow soon! - Promise!). Now, there is alot of perseverance involved with these, but I do have a few tips. Sometimes your tips may look a little straight and un-dreaded, as when you backcomb your hair to form a dread, this bottom bit is left out because there is nothing to hold onto to backcomb!
Tip 1: work the backcombing thing as much as you can, then move to holding one strand of hair from the dread, and pushing the rest up with your fingers then crushing and twisting them tight...
Tip 2: after this, wax the end (if you use dreadwax: See knottyboy.com for info that I used to get started)
Tip 3: some of you may have heard of / used the palm rolling technique. It's where you roll the dread between your palms to tighten the loose ends. Well, after you have followed tips 1 and 2, try palm rolling the ends of your hair, but putting a *slight* roll to it (round and round, not just side to side...). Should slightly round the ends to avoid the straight bits at end getting stringy...it incorporates these bits into the dread itself.
Now these are not permanent. They will eventually slacken and work themselves apart as the hair tries to move back to its previous position. But if you do this regularly, the hair will get more knotted, and more used to this position. Thus, less work! Well, that's what I'm hoping. Will keep you informed...
Here are some pics of my tips a few days after this treatment:
Also please leave a comment to let me know what you think, or what you think I could try!!! Thanks
!
Dandruff Update!!!
Ok guys and galls, dandruff update: Rosemary Tonic thing works well! (See help and advice link)The only thing that you have to know is that the flakes may stay stuck in your dread roots for a while, if they're still tight that is... But the scalp will be A-OK! But you can keep on applying the tonic stuff to it if you want... It can't hurt! But as regarding the stuck flakes, these will work their way out eventually! Even if it does mean that you have to wear a headband for a while!

Tuesday, July 26, 2005
Beads and stuff!
Yo yo yo yo! I've been bead shopping! Now, I thought I'd share with you the wonders of dreadlock adornments! Don't get me wrong, dreads are super cool with or without beads and stuff, but sometimes beads help to hide the unusual loops and messy bits that dreads sometimes have before they knot up properly! Therefore practical as well as excellent!
Now, go forth in wonderful adornment! Go! And bead thyself! HOWEVER! May I suggest that you don't doll yourself up like a Christmas Tree! Sometimes less is more! Also, it's nice to choose things that compliment each other! I'm into metal beads at the mo, and I think they go well with wooden things too!...ok, now you can go and adorn thyself!
Monday, July 25, 2005
One Month Pictures
One Month! Also without wax! Coolio spoonio me thinks. Will put wax on next time I wash them though, to keep them tidy!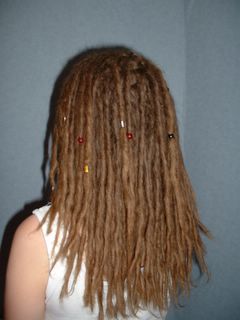 Dandruff!!!
Keeping you pegged, I'm gonna disgust ya and tell ya that I've had a bit of a dandruff problem as of late, but it's clearing up, with the help of a Rosemary Tonic! More details of how I faced this problem can be found at my Hints and Advice link!
xxx

Sunday, July 24, 2005
Month 1 Report
This is what I started with, where I sectioned my hair into one inch grids (not necessary, but the neurotic in me necessitated it!) - For full help on how to start dreads, may I suggest you toddle off to www.knottyboy.com, that's what I did!
This is The First Day (*hushed silence and much excitement*). I was well chuffed! They were very puffy and soft, and kinda felt like they'd come out if I messed with them in the wrong way...but I kept twisting them, and palm-rolling them, and was gentle with them (but not rediculously so...I still tied them back, as you will soon see...) and they are still going stronger than ever!!!
This is about two weeks into my dreadlock adventure... in this time, I palm rolled my dreads through the day when I had time, and kept twisting them up (see the knottyboy 'how to dread' for more excellent information). I washed them after exactly one week (the reccomended time to leave it), and found that I needed to re-backcomb some sections of my hair to make them tighter. Not that they'd fallen out, it's just that I wanted then to start stronger. I suppose that this depends upon the thickness and texture of the hair you're working with, and how tight you backcomb them to start with...